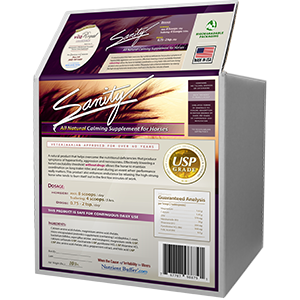 1 lb. (box) - $27.75
Add to Cart
5 lbs. (box) - $120.75
Add to Cart
10 lbs. (box) - $201.25
Add to Cart
25 lbs. (box or moisture resistant bucket) - $401.50 Add to Cart
Guaranteed Analysis
per Scoop (2 tbsp)

| | |
| --- | --- |
| | |
| Calcium (Ca) | 1.48 g |
| Magnesium (Mg) | 1.63 g |
| Zinc (Zn) | 273 mg |
| Thiamine (Vitamin B1) | 273 mg |
| Niacinamide (Vitamin B3) | 382 mg |
| Pyridoxine (Vitamin B6) | 382 mg |
| Folic Acid (Vitamin B9) | 8.7 mg |
| Sodium (Na) | <1% |
For Horses in Competition, Training & Trailering
---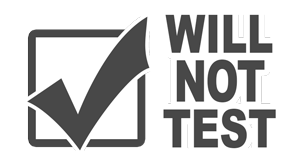 Natural Equine Calming & Focus
Supplement
Sanity® is a soothing all natural formula containing magnesium, calcium, zinc, B vitamins, amino acids and probiotics to help address nutritional deficiencies known to cause symptoms of hyperactivity, aggression, nervousness and anxiety-like symptoms in horses. Sanity® provides a special combination of nutritional support necessary for the healthy function of neurotransmitters in the brain - helping a horse stay calm and level-headed even in lively and unfamiliar surroundings.
Micro-encapsulated live probiotics are protected from stomach acid long enough to reach the gut and then activate to help ensure absorption of the most important ingredients. Research also shows probiotics can also be the key to brain health (or getting a horse's head put back on straight), and including the right B vitamins can also help improve focus and lower irritability - vitamins such as B6 which is shown to decrease anxiety-like symptoms in those who are deficient, and help break down excess homocysteine associated with brain diseases.
Sanity® is NOT another tranquilizer or herbal calming supplement that dulls the horse's senses and can easily interfere with balance and coordination.
Be sure to try natural - nutritional calming/focus supplements BEFORE you try drugs because if a horse has one or more nutritional defficiencies which are causing behavioral problems, addressing the defficiency is the best way to resolve the behavior. Drugging is generally bad for horses and masks the cause of the problem - while Sanity® is Safe & Good for a horse's health.
Sanity® can enhance the endurance of high-strung horses who tend to burn themselves out within the first few minutes of work by helping to mellow disposition, lengthen attention span, curb compulsive behavior, fidgetiness, and lower excitability.
Horses with ulcers tend to show symptoms of aggression resulting from higher gut sensitivity. We recommend Nutrient Buffer

®

liquid to relieve their pain - which tends to make the biggest difference in calming those horses down.


Horses suffering from heavy metal toxicity and/or chemical eposure commonly show signs of excessive irritability and excitability. Sanity

®

works great with XenoDetox to help horses handle mobilizing and detoxing toxins from the body.


Sanity® is often used in preparation for training, trailering and equine eventing. It can be top-dressed or dosed. When dosing, many prefer mixing with Nutrient Buffer® liquid and administering with a dosing gun. It is safe for continuous daily use and the dosage can be adjusted to fit the size and temperament of any individual horse.

For over 30 years, veterinarians and horse proffessionals everywhere have been using Sanity®. It's safe, reliable, does not test, does not conflict with drug therapies, and horses do not build up a tolerance to it over time.
Since 1977, our company has been pioneering mineral ratios in the cleanest and most absorbable forms for the horse industry. Sanity® is best known for how well it works in chestnut mares but it's proven to work for all horse breeds, ages and genders.
5 lbs. of Sanity® will usually last one month, depending upon use.
The Truth About Contamination in Equine Nutritionals
The above video shows two different samples of magnesium oxide under magnification. USP Grade (bottom-right) vs. Feed Grade (top-left). The only cause for the brown coloration is impurities including heavy metals - the pure stuff is white. The same goes for Feed Grade salt blocks. Only buy the white ones!
Ingredients:
Calcium amino acid chelate, magnesium amino acid chelate, micro-encapsulated probiotics (lactobacillus acidophilus, lactobacillus casei, bifidobacterium thermophilum and enteroccocus faecium), magnesium oxide USP, calcium carbonate USP, B-complex vitamins (thiamine HCL USP, riboflavin USP, niacinamide USP, calcium pantothenate USP, pyridoxine HCL USP, folic acid USP, B-12 USP), zinc amino acid chelate, silica and peppermint extract.
Suggested Retail:
1 lb. (box) - $27.75 Add to Cart
5 lbs. (box) - $120.75 Add to Cart
10 lbs. (box) - $201.25 Add to Cart
25 lbs. (box or moisture resistant bucket) - $401.50 Add to Cart

---
above prices are subject to change
---
More Situational Supplements
---
All of our situational supplements are designed to work quickly and safely; many are U.S. Patented. We use only USP Grade and amino acid chelated minerals. Micro-encapsulated probiotics ensure good digestion and fortify the immune system. We do not use fillers or binders, and all of our formulas contain 100% active ingredients.
(swipe left & right)